Jeff's 1972 Dart 5.7 Hemi, 545-rfe, 8 3/4 3.55 + 3.91, Stock sus.
Here's my Dart...
I started this project a couple years ago so I'll bring us up to date.
I work at a muscle car resto place in tucson and at the time my supervisor, who was building a sweet 69 Road Runner, told me that there was a Dart for sale in his nieghborhood. I met with the then current owner and after a cup of coffee I purchased it for $650.
There was some work to do so lets get started...
Make it a driver

I began in the motor compartment it looks well, used. So I prepped and painted it B-5 Bright Blue Metalic, I like the color.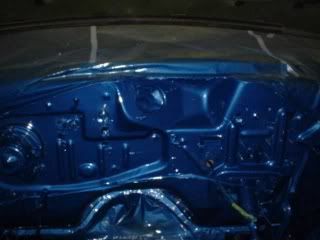 I was walking through my block with the dog and ran across a neighbor wrenching on a beautiful big block, freshly built and on a stand. I went up introduced myself and started talking. Turns out he had a 74 Charger that had been painted by my shop nine years before I had worked there, still looked great. I asked him what was happening to the 360 and 727 he was changing out of the Charger and ended up with it for my Dart.